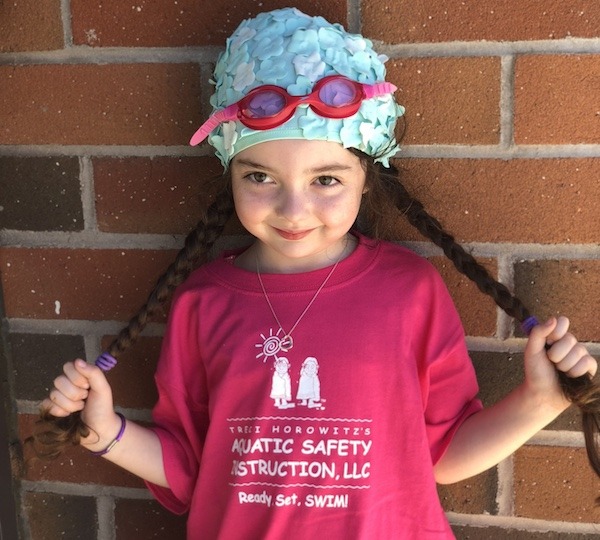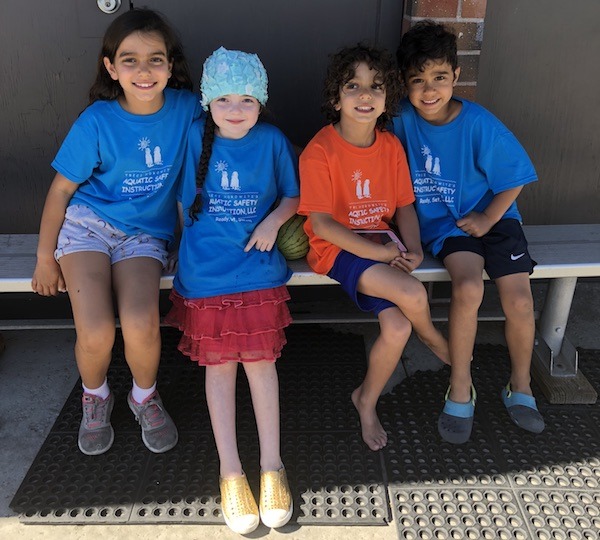 Please help us help others. Did you know that Aquatic Safety Instruction serves over 35 students at a zero cost to them?  These students would have otherwise not be able to participate in a "Learn to Swim, Learn to survive " program.
100% of the proceeds of these adorable "Helping Hands" tee shirts  goes directly back into the scholarship fund that allows us to serve these very special individuals. It is with a humble sense of gratuitude that this year our fund has been underwritten by Randall Emmet as he honors his daughters London and Rylee Emmett.
Please consider purchasing a tee-shirt for $15. The shirts come in all youth sizes and a variety of colors. Feel free to call the office at any time to show your support and we thank you in advance for supporting our "Special Abilities Learn to Swim Program"!
Ready, Set, Swim®    Ready, Set Survive!™
The gift of water safety is a team effort, with ASI's qualified instructors, parents, and students.  Each student is unique and our progressive "gentle approach" focuses on the individual.  An emphasis is placed on each person's individual needs, fears and abilities.  As the student develops confidence in the water he/she will learn water safety first.  With gentle guidance to nurture the natural instinct, form and definition develops thereafter.
How to Sign Up Online!
Aquatic Safety Instruction uses Mind Body as our online scheduling client. Please follow the steps below to sign up for courses online!
Step One: Click "Register"
Step Two: Fill Out Your Info
*Don't forget to click "Add Family Member" if you are purchasing a class for your child!
Step Three: Sign Up
Once you've registered, consult the schedule on Mind Body and click sign up on the class you want to take. 
*Please Note: Private Lessons, Adult and Special Abilities Classes  follow steps one and two. Then call 818-363-0221 to sign up for class!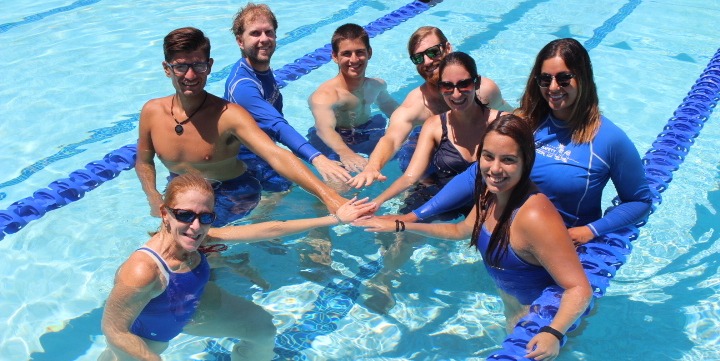 2018 Aquatic Safety Instruction Staff
Our Mission Statement
At Aquatic Safety Instruction, "We pledge to provide a developmentally appropriate water safety program as well as unparalleled customer service while striving to earn the respect and trust of all of our students."
We don't teach for the income, we teach for the OUTCOME!
Our Vision
To be the best! Our unique success is based on caring for and cultivating our staff, delighting our customers and continuing to embrace our responsibilities.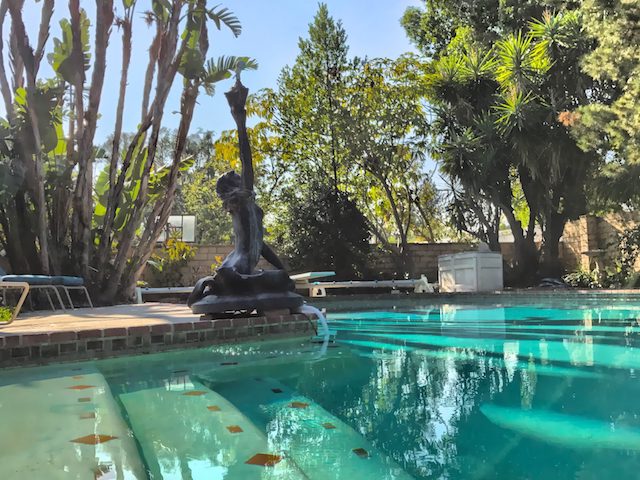 Northridge Location
10241 Hadley Ave
Norhtridge, CA 91436
Directions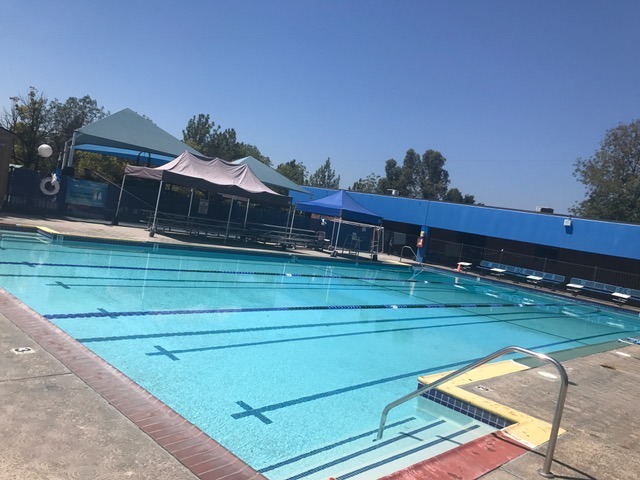 Wise School / Bel Air Location
15500 Stephen S Wise Drive
Los Angeles, CA 90077
Directions
Office Hours
Monday – Thursday 10:30- 4:30
Friday 10:30 -3:30
Saturday office is not staffed but messages are retrieved through out the day.
 We understand that one may wake in the morning feeling under the weather. We will always do what we can to reschedule your class. Please let us know as soon as you know that you will be unable to attend your swim class.
For weekend same day cancellations please text (818) 674-1860. Make certain to include the name of the student, and time of originally scheduled class
Again, please only use this if you or child cannot attend a same day weekend swim class. You can also email us at info@aquaticsafetyinstruction.com.
Our 24 hour cancellation policy applies.
Our staff are here to help in any way possible during our noted office hours.
We invite you come take a look at both pools, however, these visits are available by appointment only.
"LOVE LOVE LOVE AQUATIC SAFETY INSTRUCTION! They always teach with the best interest of the student and make swimming fun and enjoyable. Would recommend for anyone wanting to learn how to swim in a relaxing and nice environment with great instructors!"
Takouhi
Services We Offer
Adult Private Swim Classes – All levels of instruction
Youth, Tween, Adult – Strength and Conditioning
Private Lifeguard Services
Full Service Summer Camp Aquatics Management
Special Abilities Swim Classes taught be experienced, specialized and credentialed educational specialist
American Red Cross Health and Safety Certification and Re-certification Courses (Classes TBD annually)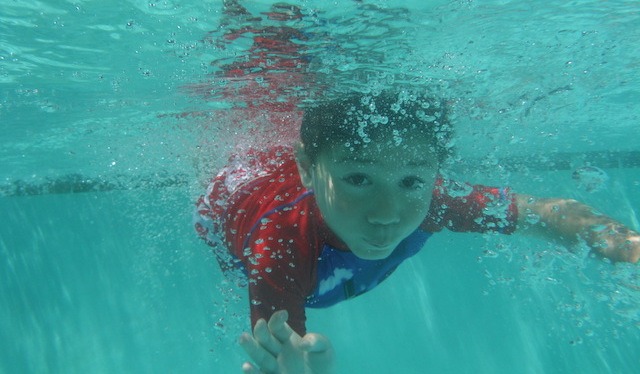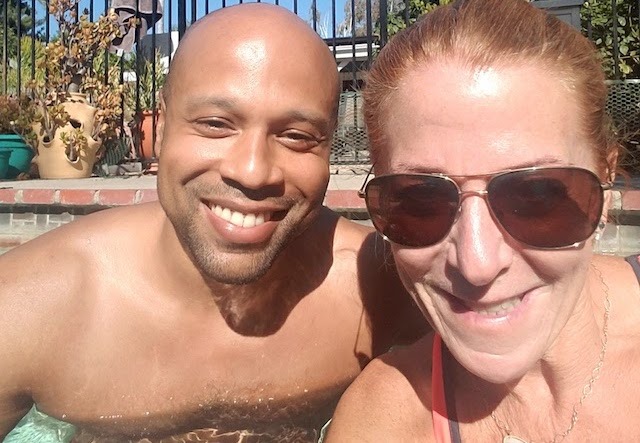 Adult Courses
Aquatic Safety Instruction offers private adult swimming lessons to help you learn to swim with confidence. No 2 adults learn the same nor do they want to learn to swim for the same reasons. It is our job to get to you, to become acclimated on how you body works within the water and to address any and all fears. You will work with one of our Adult specialists who are highly trained in  adult swim presentation. Register below and then call in for class availability!